UK Covid-19 Lockdown awareness and highlights from the group
In what has been a challenging time for the UK and all of the MEFGL team, it is important to reflect on achievements and positivity emerging in what is still a period of global uncertainty, whilst many of us are still working from home.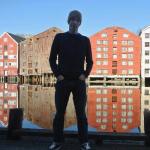 The first, is the well-earned achievement of Andy Foote, an evolutionary biology powerhouse, who has recently left the group after completing a prestigious Marie Skłodowska Curie COFUND Fellowship, to start an Associate Professorship at the Department of Natural History, Norwegian University of Science and Technology (andrew.foote@ntnu.no). Andy is featured here in one of his signature enigmatic photos on what looks to be on the waterfront in Trondheim, a regular walkway of the attendees to last year's iBOL Conference. Andy is still working with the group and we wish him the very best for his new position!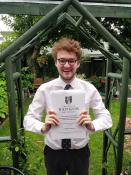 Second, huge congratulations go to Will Perry, featured post viva, after passing his PhD program with no corrections. With a string of papers published and submitted, it took Mat Gage (University of East Anglia) and Will's Bangor PhD committee (comprising of the Internal, James McDonald and Chair, Anil Shirsat) approximately 3 hours to decide that he had achieved Doctoral status that was followed by a brief drink, further celebrations and more to come. We also look forwards to working with Will on the NERC LOFRESH project as he commences his first PDRA position with Si and Gary.
Last and definitely not least, congratulations to James McDonald on receiving two substantial BBSRC grants (detailed below) in this period, in addition to his ongoing involvement in the emerging UK-Covid 19 Wastewater sentinel program with Davey Jones. Amazing work James and good luck with these research programs!
1. FUTURE OAK: Characterising and engineering the oak microbiome to future-proof an arboreal icon. PI: James McDonald, Norman Dandy Co-I (Bangor), and also in partnership with Sandra Denman at Forest Research and John Draper at Aberystwyth University. £1.33m
2. BACSTOP: Bacteria: Advancement of Control and Knowledge to Save Threatened Oak and Protect them for Future Generations. PI: Sandra Denman, Forest research. James McDonald Co-I; multi-partner consortium grant. £2m.
Publication date: 14 July 2020